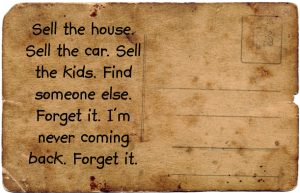 The mysterious and ever-changing formula for riches in the writing world apparently skews heavily towards newsletter signups. How this works, exactly, is mysterious to me. So far I've figured this much out:
Launch Newsletter
Lure people into signing up
????
Profit!
Still, I have a newsletter now, and to avoid the ignominy of having said newsletter descend into chaos and dormancy, to avoid having my writer peers point and laugh at me and whisper behind my back have you SEEN his newsletter? Poor fellow hasn't sent one out in ages and has a tiny mailing list! I'm going to have to keep thumping it.
So, if you haven't yet signed up for the Jeff Somers Rocks You Like an (Email) Hurricane newsletter, why should you?
It will make us best friends. Benefits of being my best friend include:

always being able to stop by for a whiskey;
free pass to pet any of my cats (you can even take one home if you like, we got plenty);
right to refer to me as "my friend Jeff Somers" and to create and wear T-shirts, buttons, or other paraphernalia referring to me as such

You'll get free short stories, essays about writing, and other content that no one else gets. This includes previously unpublished writing, early or alternate drafts of books, and other arcana.
I promise no spam, political rants, religious theorizing, or personal opinions that are not hilarious, about whiskey and baseball, or other harmlessly entertaining things. No one cares what I think about politics, and I am eternally grateful that this is so.
Ask Jeff Anything. I'll answer any question you have, sometimes on this wee blog, sometimes via video on my YouTube channel, occasionally by showing up your door to drunkenly yell at you.
Free stuff! I'm planning to offer a giveaway with every newsletter. These will be determined randomly, usually in a panic moments before I have to send out the newsletter. The possible giveaways include:

Signed books (likely you'll be able to request which book)
Rare print versions of eBook-only publications
Random stuff from my pockets or desk drawers
Cash, if I'm desperate enough for attention

For example, the next newsletter will be out in November, and I'll be giving away five super-rare print copies of the Ustari Cycle novella The Stringer, which you can only buy as an eBook right now. Giveaways will be open to every subscriber, but you do have to subscribe to be in the running.
So! Why not join the Super Happy Best Friends with Jeff and Other Benefits Mailing List? I mean, if you can't be bothered to click the DELETE button just four times a year, to hell with you.
So, pass it on. And send me questions. Or demands. I'm open to anything, really, as long as we get more signups. You can find the simple, easy signup link in the right-hand column of this blog, or here.
Cheers,
Jeff