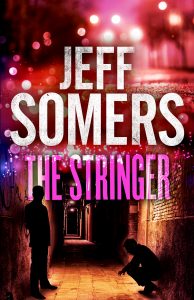 The Stringer, The Ustari Cycle #3, is out — 99 cents for a great story that returns to the world of Lem Vonnegan and Pitr Mags.
A frequent question is, Hey Jeff, why is The Stringer number 3 in the series? This is confusing as hell and now I've spent my last dollar on ice cream instead of your book.
First of all, I get that: Ice Cream is goddamn delicious, bro. Second of it, here's how the numbering in The Ustari Cycle works:
1 – Trickster
2 – Fixer
3 – The Stringer
4 – Last Best Day
5 – The Boom Bands
The reason We Are Not Good People is both 1 and 2 in the series is because it was originally going to be two separate books (Trickster and Fabricator), but was combined into one. And Fixer, although it's officially numbered as #2, is a prequel that should probably be considered 0.5. And we're blessed with a confusing series numbering system as a result. Yay!
Now go buy The Stringer. Also, We Are Not Good People is still just $1.99 for eBooks.