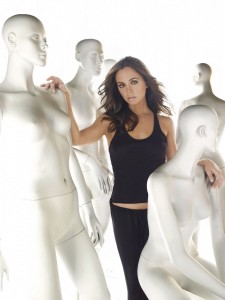 If you fear spoilers on 5-year old TV shows, boy are you in the wrong place.
About five years late to the party, I started watching Dollhouse on Netflix recently out of curiosity. I remember the show, vaguely, from it's run on broadcast TV, recalled the slight buzz about the unaired season 1 finale, so I tuned in. I often watch stuff out of morbid curiosity: Canceled shows, films with record low Tomatometer rankings, that sort of thing.
Dollhouse, for those who don't share my morbid curiosity about failed pop culture, is a Joss Whedon show developed around the concept of "imprinting" personalities on people. The titular "dolls" are volunteers (mostly) who sign a 5-year contract, have their own personalities removed, and spend their time being imprinted with whatever the clients need them to be. Sometimes it's a security expert. Sometimes a secret agent. Usually, the show implies very heavily, it's a sex toy.
The show starts off a little rough with some really, really bad stories involving reasons to get Eliza Dushku into skimpy outfits. Slowly, the over-arching story arc asserts itself: The "doll" technology is getting out of hand, and that unaired final episode of season 1 makes it very clear: The "doll" technology is going to end the world as we know it.
Dollhouse as it ended up – 26 episodes – is a hot mess. But there's a really, really great story in there that would have worked incredibly well in a British-style short-run of maybe 10-12 episodes.
The American Model  = Doom
To be fair, you can almost see (and Whedon has said as much) how Dollhouse got sold: Eliza Dushku in hot outfits, engaged in a new Charlie's Angel-esque adventure every week, but with a Sci-Fi glamour about it. The first few episodes are pretty much this, and they're awful. Whedon actually started to say publicly that people should stick around for episode 6 of the first season because that's where he thought he began to assert the type of show he really wanted to make – and it shows.
A lot of Dollhouse is this awful filler, with the "dolls" instantly transformed into spies, backup dancers, fancy prostitutes, and other fairly dull ideas. The true joy of this series is in the back story and the arc, which details how the technology became mobile and broadcastable – meaning you could "imprint" someone over the phone, essentially – and how that basically allowed the rich and powerful to live forever by snatching other bodies, and how that basically led to the total breakdown of society and the end of civilization.
That story is pretty damn good.
The other aspects of the show that work are where the basic premise of imprinting someone is explored in more interesting ways. When a Doll is imprinted with a recently murdered woman who then investigates her own murder. When a major character on the show is revealed to have been a Doll who wasn't aware of her status – who thought she was real, and her reaction to this knowledge is explored.
But mainly, it's the end-of-the-world stuff that grabbed me. Cut away about 50% of the episodes, and you'd have a pretty tight British-style show that told an interesting Sci-Fi story. And you'd still have plenty of opportunities to put Dushku into miniskirts and have her shake her ass a little.
That's the problem with American-style TV: The goal is always infinite episodes, or at least 100 episodes and syndication. This automatically lends itself to padding, filler, and awful plot decisions. In fact, I'd say that the fact that Dollhouse was pretty much always in danger of being cancelled at any time is likely why so much of it actually works – because Whedon was forced to always be thinking hard about getting his story goals accomplished. I can picture him madly typing away in some smoke-filled office, trying desperately to get to a denouement before FOX canceled his ass.
Is Dollhouse great TV? Not really. But it might have been, if they weren't shooting for infinite episodes. Now that we're moving into an era when a show like Dollhouse, with its traditionally puny 26 episodes – along with popular British fare like Sherlock, Luther, and The Fall – can be successful on Netflix, or Amazon, or Hulu, maybe we'll see more experimentation this way, and more shows modeled on a shorter run, with less filler. And that would be awesome.