Here's something I stumbled across, written probably more than ten years ago. AND STILL HILARIOUS.
Dear People of Hoboken,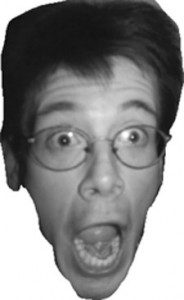 As one of Hoboken's literati, I have been scanning the pages of the local papers for my name on what can only be described as an obsessive basis ever since an interview with me appeared in the local newspaper, the "Current" last March. Unfortunately, there have been no other mentions of me since then. This distresses me. Although I am sure the local Hoboken papers are not causing me this distress on purpose, it remains a fact that the Hoboken free press teased me with a week of interest in my existence and then, just when I thought they were serious, dropped me like a hot potato for the next "flavor of the week". I think you people owe me something, especially when you consider how much money I spend in the local bars, which is a lot, unless I can convince someone else to buy me drinks. Which isn't easy when your face isn't on the front page of the local newspapers, dig? So we come back to the central point: how can the Good People of Hoboken help a guy out and get him some free cocktails?
I have also noted, in a not-totally-unrelated-although-it-might-seem-so-at-first matter, that Hoboken does not seem to have a Poet Laureate. This really stuns me, as most class-act municipalities and nations have one. I had to go look up who the Poet Laureate of the United States is, and it's Billy Collins, which is startling because, when you think about it, everyone's first reaction to that is probably "Who in the world is Billy Collins?" No relation to Phil Collins, Billy, according to the Library of Congress' web site, "…is Distinguished Professor of English at Lehman College, City University of New York, where he has taught for the past 30 years. He is also a writer-in-residence at Sarah Lawrence College and served as a Literary Lion of the New York Public Library." Which basically translates to: A man who has not left a college campus in almost his entire life, and probably has forgotten what other human beings look like. Likely Mr. Collins peers out from his darkened lair with his fishbelly pale eyes stinging from the direct sunlight, and then he composes haunting poetry about how he hates all the Normals who mock his Phantom of the College existence, which he then mails off to the President. Who doesn't read them, because our President can't read.
Which brings me back to my point: I would like to be named Poet Laureate of Hoboken. There are many reasons for this. One, I would be a lot more charismatic and interesting to talk to (especially over a few gratis rounds of Killian's Irish Red at, say, Stinky Sullivans, on you) than a freakish shadow-monster like Billy Collins. Two, I live in Hoboken and am the first person, apparently, to think of the idea. Three, I have crippling bar debts that threaten to force me into sobriety, and I could really use some sort of stipend from the government. Four, I think it would be very cool if I could introduce myself at parties by whipping out a striking business card that read, simply, JEFF SOMERS, POET LAUREATE OF HOBOKEN. Finally, I have actually written poetry, and while none of it specifically mentions Hoboken, quite a few deal with the horrors of hangovers, and that could arguably be symbolic of Hoboken. Here's a sample Haiku:
"A DTs morning,
rats in red smoking jackets!
why do you mock me?"
I would appreciate the Good People of Hoboken's help in bringing the "Somers for Poet Laureate" movement to the attention of our mayor, whoever that is, and the other illuminati who run this city. It's the least you can do after I helped you sell all those papers back in March 2001 without so much as a thank you.