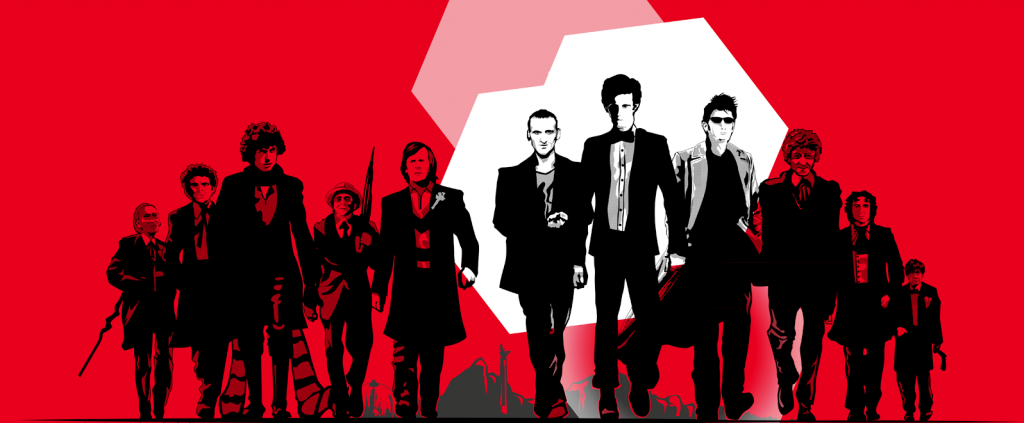 As River Song would say: SPOILERS.
SO, Doctor Who. I remember it, vaguely, form my childhood. My older brother, always a sucker for old-school monster stories, liked it for a while during the gory, gothic-tinged Tom Baker era and being a younger brother I naturally avoided it in public and then watched it secretly a few times and was scared witless by Tom Baker's Insanity Grin. Then I forgot about it for a long time, and when it was reborn in 2005 I barely paid attention. Over the years I've occasionally heard a few things about it, seen come clips on YouTube etc., but generally ignored it, as any good American should.
Recently, for no reason whatsoever beyond being intrigued by the hype surrounding the 50th Anniversary of the show, I started watching. I sprinkled in some of the classics and a few of the older new episodes, but mainly I started watching the Matt Smith era for no other reason than there seemed like there were some interesting details in there. And for those who are already wondering: Yes, I watched Blink. It was actually the first episode I tried out, and based on it's success I forged on. So stop asking me if I've seen Blink. I have.
Anyways, Dcotor Who has always been problematic for me, and remains problematic. In the old series I was always bothered by the slow pace, rough editing, terrible special effects, and the silly costumes. In the modern series they've solved many of those problems but some of the plot problems remain. All in all I think I'm in a Love/Hate relationship with this show at the moment. It's sort of like an old friend from elementary school who comes back to stay with you for a while. You have fond memories, and you find him good company sometimes, but it's just kind of strange.
Or maybe I'm more haunted by Tom Baker's Insanity Smile than I'm letting on. LOOK AT IT (you can't look away):
The World is Ending! Again! And Again! And Again and Again!
So, let's keep in mind that I am mainly familiar with the Steven Moffat/Matt Smith era. I know a lot of the general backstory and some specifics from previous incarnations, but let's stipulate that I'm playing with half a deck. Still, I have observations about this most modern version of the show.
The first is simple: It is a lot of fun.
People often say that Doctor Who is a children's program, and it is, to an extent. The science is all wobbly and the history is too, but there is an awful lot of fun  in the stories, the sense that danger is fleeting, death impossible, and that we'd all prefer to be flying around the universe rather than, say, going to work. Yes! That. There are dramatic moments and even deaths from time to time (not counting the 12 times the Doctor himself has 'regenerated,' stated as canon as a type of death, since what makes him him dies and his memories are reborn as someone new) but generally speaking this is a show where the universe is a playground and even the most dire of threats are resolved by the end of the episode – or the story arc, at the very least.
The characterizations are fun, too. The Doctor himself is played with an affecting mix of boyish charm, wonder, curiosity, heavy sadness, and insane temper, but always with a human heart somewhere under all the alien physiology. The companions I'm most familiar with, The Ponds, make for fun people as well, and have supported some very effective dramatic beats in the story.
Overall, I'm saying: Don't take any of my criticisms to mean I'm not a fan. I am! I really enjoy it.
But.
The problem with the modern Doctor Who is simple: The world is always ending. The world is always ending and Amelia Pond is always near death or being tortured or abandoned for 36 years or having her baby torn from her loving arms. Always. Always. This is an effective strategy for telling interesting, compelling stories … until it isn't, because my dramatic/end of the world chip is burned out.
Moments
The modern Doctor Who always wants moments – which is to say, Steven Moffat, the showrunner, wants moments. As in, Moments. The show craves those big, dramatic, emotional moments like a writer craves booze. That is, constantly. Few episodes go by without a big emotional beat between characters, or the end of the world, whichever is happening sooner. After so many partings of the way and heartfelt declarations of affection and epic this and epic that, my Epic Emotion Chip gets a little burnt out. These sorts of moments are meant to happen rarely in any story. Not every single episode. Not to mention the fact that Amy Pond has, let's see, been abandoned several times, suffered childhood psychological trauma, been assaulted and near death, been kidnapped and had her baby taken away from her to be raised as an assassin, been split into two versions one of which was left to rot and fight robots for thirty-six years, robbed of her ability to have more children, and eventually banished to the past to live out her years decades before her own parents and everyone she knows is born. And yet at no point is there any serious suggestion that Amy has suffered, you know? Because she got to go on adventures in between these horrific moments.
After a while you get tired of The Girl Who Waited and want her to get some peace and stop being Moffat's little Emotional Beat monkey.
Of course, part of this is a product of binge-watching – fair enough. I'm not waiting weeks or months for the next episode – I'm just porning my way through them, and why not. The thing is, once you release a work, you can't force people to watch in some very slow way so your emotional beats feel measured. That sort of thing has to be baked in.
The Bandage
Part of this is, I think, a reaction to the fact that Doctor Who has never had the greatest plots. Now, 800 or episodes is a lot of storytelling, so I will grant that not only have some of them been very good, but Doctor Who has a certain structure and feel to it that remains even in the new version. It's a Monster of the Week serial and always has been: Most episodes can be boiled down to a few basic plot points:
1. Doctor and Companion arrive somewhere, usually unexpectedly
2. There is mystery. Doctor surmises alien of some sort is behind it.
3. Doctor investigates/opposes, seems out of moves and about to lose
4. Twist = Victory!
Now, certainly not every single episode follows this pattern – but most do, and it works well enough, even when the Monster of the Week is the Daleks Yet Again or the Cybermen Yet Again. But the point is it works precisely because Moffat et al have created characters we really do care about. The Doctor is kind of charming, especially with the spice of his darker side emphasized. The Ponds were charming and hilarious, and their back story in regards to each other and the Doctor was affecting. That stuff worked, and it distracts from the fact that most of the mysteries are explained, somehow, via timey-wimey and a sonic screwdriver. In other words, Moffat basically writes himself into a corner and then shouts TIME LORD!, throws a smoke bomb, and escapes yet again. You can do that when your character has 50 years and 800 episodes of history, but goddamn it, Moffat is abusing the TIME LORD/SMOKE BOMB button. If you ask me.
Which no one has. Am I thinking too hard about this? Likely. I tend to get all obsessive with things like this – I ignore them for years while others are telling me to check them out, and then suddenly, as if it was my idea all along, I dive in, burrow deep, and live and breathe it for a while.
I do enjoy the show and will keep watching it. But that doesn't mean the Smoke Bomb's gonna keep working on me.