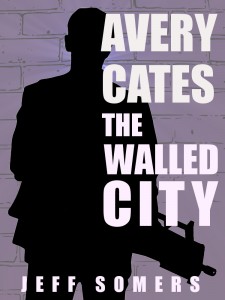 So, Avery Cates is not only my first published book series, it's also a character close to my heart and one I thoroughly enjoy writing. And while I'm busy with a lot of other projects, sitting down and writing an Avery story always remains in the back of my head, so I'm giving in, slowly.
A few months ago I published The Shattered Gears, a short story that was also the nub of a new Avery adventure. Since then I've written The Walled City, which will be released as a short story on Kindle, Nook, Kobo, and Google Play on June 15th, 2015, again for 99 cents. It's a direct continuation of the story from The Shattered Gears. It's available for pre-order now, in fact!
I have a whole story arc laid out, and what I'm going to do, until someone tells me to stop, is write chunks of the story and release them as novella-length pieces. Each piece will be a standalone story as well as a piece of a larger story. When all the chunks are out, I'll combine them into the complete novel and release it separately.
Why not? This way I'm not trying to write a whole novel while trying to write six other things, but I still get to play in my favorite universe and sell some writing. It's a win-win, I think.
Feel free to spread the word to any Avery fans out there. Here's a little video trailer I made for the new story:
Any questions, just shoot me an email!