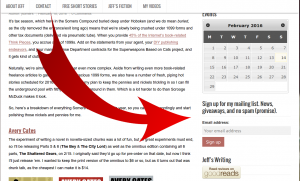 Look, self-promotion is mysterious. I don't claim to understand it. Sometimes posts or things I create that I think are hilarious and/or brilliant get zero traction, and sometimes throwaway ideas I spend zero time on get thousands of shares. I have no idea what I'm doing when it comes to promotion, let's just put it out there.
So when my agent Janet appears in a swirl of purple smoke and prods me awake with her bedazzled halberd and orders to me to start up an email newsletter, I do it.
Take a gander over at the sidebar (see image). See that? It's a sign up for my newsletter! YOU SHOULD SIGN UP FOR MY NEWSLETTER. The first 30 folks who do so will get
A signed copy of Trickster or We Are Not Good People.
A couple of bookmarks or other promo-type swag-things
My enduring gratitude (worthless, really)
The newsletter, which will be hilarious and offer news about upcoming releases, appearances, giveaways, and anything else I can think of to amuse and astound you
What's to lose? All you have to do is sign up, and then I'll email you to confirm you're one of the first 30 and you tell me where to send your swag (and the inscription you want, if you have a preference). IT'S THAT EASY. My GOD, it's so easy I can't believe you haven't done it already.
Plus, if you push me over 2,000 subscribers, Mailchimp will start charging me, which will make me sad, so there's that as a goal in case you secretly hate me.
DO IT.