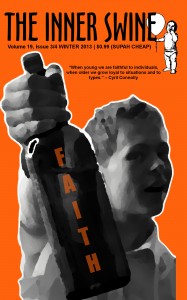 It's that time again, kids: The Winter 2013 Issue of The Inner Swine is out! Here's the TOC from the issue, which has a vague theme of faith:
EDITORIAL: It's All Downhill From Here, Isn't It?
AMERICAN HORROR STORY:  America's Got No Fucking Idea
FROM THE BLOG:  Where Gone Home Went Wrong
FROM THE BLOG: Writing as a Reader
FROM THE BLOG: Essays about Breaking Bad
AMERICAN HORROR STORY: America's Next Idiot Model
COMMENTARY: THE DEFINITION OF INSANITY
COMMENTARY: How to Survive the Crushing Inevitability of Your Own Death
FROM THE BLOG:  Sinister Horror Clichés
FICTION: Up the Crazy
FROM THE BLOG:  The Freaks are Winning Part 65,678
HUZZAH! Available ONLY on Nook and Kindle, sadly, but well worth the 99 cents, bubba, if I do say so myself.