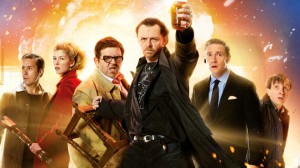 Recently watched The World's End starring Simon Pegg and written by Pegg and frequent collaborator Edgar Wright. Didn't love it, which was surprising because of the good reviews and the fact that I really enjoyed Shaun of the Dead and Hot Fuzz and even liked Scott Pilgrim well enough despite not being familiar with the comic and it being sort of ridiculous. I thought I was going to fall in love with TWE and ask it to marry me.
Instead, I enjoyed the first part and got bored the moment the skiffy element was introduced. What started off as an interesting, funny, and surprisingly moving tale of grown men dealing with childhood disappointment and the mundanity of adulthood just sort of went all cockeyed, for me. Your mileage may vary, of course, and if you loved it I have no argument to make.
It did make me think about some of my own early writing. This isn't really a review of the film or even a discussion about it, it's about my own writing tendencies. Which included a period where I would deal with emotional and character development issues by copping out and introducing a Deus Ex Skiffy.
DEUS EX SKIFFY (I Just Made That Up and Like It more than It Deserves)
What that means is, I used Sci Fi and Fantasy elements as a way of writing about things I was uncomfortable with, by not really writing about them at all. It went like this: I'd start a story about, say, a doomed love affair. After establishing the characters I'd get bored with/be afraid of where the story was heading, and would instead suddenly introduce a killer disease or alien invasion and pretend like this was what I'd intended to write about the whole time.
Sometimes, it works. Sometimes, it doesn't. Either way, the Deus Ex Skiffy is a copout.
The World's End sort of has this feel to me. What starts off as a melancholy story about a man who is just starting to realize that he peaked at age 18 suddenly turns into a rather confused, muddled story of alien invasion that, frankly, makes very, very little sense. The film's still fun, and worth watching, but as a standalone effort it's kind a mess. And I think it may have been a similar writing exercise as my own failed attempts at solving knotty character problems by introducing killer robots: They just got bored with the story they were writing and worried it was a little slow and dull, and so they changed lanes and ended a totally different story.
I mean, there's pretty much zero foreshadowing in the story. This may have been intentional to keep the surprise factor, but if so it was a miscalculation, because it only adds to the sense of separation between two entirely different stories. Believe me, I know; I've done it.