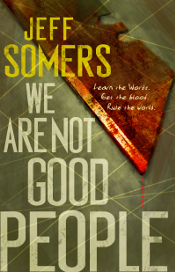 This coming Saturday (8/2) I'll be standing in a room giving a presentation on plotting novels (pantsing Vs. plotting) at the Writer's Digest Annual Conference (details here and you should totally sign up). I just informed my harried agent that I will be wearing a clown costume and plan to communicate via honking a horn and making sad faces, and she seemed to support me.
Why am I qualified to teach people how to plot a novel? Likely I am not. But someone has to give these presentations, or else middling successful novelists like myself would have nothing to do. You don't want me wandering the streets, unmoored.
I've occasionally posted essays about plotting novels here to both promote my new career as the Novel Whisperer (I plan to stop writing them and spend all my time charging people huge sums of money to coach them in their own creative endeavors) as well as the novels themselves. Because, you know, I offer these books for sale as a way of avoiding real work. And you are part of my secret plan.
Next up in the plot analysis? My upcoming novel We Are Not Good People, publishing in October (a free prequel, Fixer, is available for free download right now!).
Plotting WANGP
Yes, the acronym for this novel is WANGP and that pleases me to no end.
Plotting this novel was an exercise in pure, joyous Pantsing. As with most of my novels, I started off with an initial image — an old apartment that had been sealed up decades before and left undisturbed, based on a true story I heard about a place on the Upper East Side of Manhattan that had been closed up for the season in the 1940s and then abandoned, the bills paid, the doors locked. I imagined rustling around in there, then saw a dead girl in a tub, and then saw two grifters who used small spells to help their scams. I had no idea what the story was going to be. I just started writing.
I often — but not always — write this way, just pouring on words. I got a little stuck after a few chapters, which also happens a lot: Once I'm done establishing a universe and characters, I sometimes stall wondering what exactly they will do. Then I read a book by someone else, and there was a sequence I enjoyed so much I decided on the spot to steal it, and worked a variation of it into the work in progress, and that got everything going.
Pantsing, for me, generally means imagining my characters as real people and wondering what they would reasonably do in reaction to each other and plot events outside their direct control. The answers are usually very obvious once I start thinking about it. Meanwhile, pantsing leaves me free to steal any ideas I come across, repurposing them into my story – which makes telling one a lot of fun, and very exciting, as I'm not sure where it's all heading myself.
Does any of this make sense? Probably not. Anyone who tells you the act of creation should make sense is lying.