Every story is a collection of details, an accumulation of notes about expressions, actions, reactions, natural phenomenon, etc. Sometimes those details are layered on with a heavy trowel, burying the reader under a mountain of words. Sometimes they're used more sparingly, leaving more of the heavy lifting for the reader's imagination to fill in gaps.
Sometimes, they're used really, really specifically.
Consider Roger Avary's 2002 film, The Rules of Attraction. Based on the 1987 novel by Bret Easton Ellis, it's a film that remains somewhat ignored and controversial. It is, after all, adapted from an Ellis novel, which means it is a film about Monied Trash People who screw and puke and get stoned and exist for no reason whatsoever, and wallows in their elite crapulence. It has Patrick Bateman's little brother as a lead character. You can't like anyone in the story, and the story itself eats its own tail and appears to be about nothing much at all.
The film's pretty amazing.
Number one, you have James Van Der Beek, still young-looking enough to be Dawson, giving a really great performance as the creepy, dumb, pathetic Sean Bateman. Number two, there are a lot of little tricks that work in this movie, from extended sequences played backwards, complete with backwards sound, and split screens and super creepy close ups of people. The performances are solid. If you can stomach the awful Monied Trash People who are its subjects—and the fact that one of the leads is literally raped within the first two minutes of the film—it's a fascinating movie that has emerged from 2002 more or less unscathed except for the fact that no one has a cell phone.
But the real reason you should watch this movie is one of the details: This woman.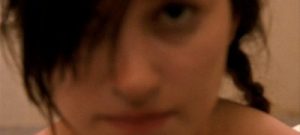 Before he ruins it with a shitty flashback montage obviously designed for idiots who aren't paying attention, Avary does something really great with this character, who is unnamed in both the novel and the film. It's a clear use of planting details purposefully—not to bury the reader/viewer in minutiae, or to world build, but simply for effect. Anyone writing their own stories can learn this trick and make it their own.
A Little Exposition
First, though, for anyone who hasn't seen the movie or read the book, a little exposition. Spoilers for a movie that came out in 2002, if you really are that weird, follow.
James Van Der Beek plays Sean Bateman, attending elite Camden College, where he has been receiving anonymous letters from a girl. His secret admirer leaves her perfumed, glitter-bomb letters in his campus PO box and never signs them. Sean is smitten with his unseen admirer, and comes to suspect she is Lauren, an elfin virgin played by Shannyn Sossamon, who he meets cute and falls in love with. On the day of a big party, his stalker leaves a letter telling Sean that "tonight is the night" that they will finally meet. But when Sean arrives at the party Lauren isn't there, and he decides to sleep with her roommate (played by Jessica Biel as a coke-sniffing wild child).
When the author of the letters is revealed, however, halfway through the film, it appears to be a girl we've never seen before. A wholly new character who is devastated when Sean goes off with the plastic and awful Biel. Avary, in fact, cuts from the narrative to spend several minutes with this new face as she commits suicide in the communal dorm bathroom, keeping a tight focus on her face as she bleeds out. It's harrowing; her face starts off blank and depression-numbed, but as she bleeds it collapses into a flurry of emotions that is truly hard to watch.
As a first-time viewer, you can't help but wonder where in the hell she came from.
On second viewing, you see it: She's been there all along. The character appears four times before her suicide, always stalking Sean Bateman. She's in the foreground, the background. She's at the party when Sean, thinking Lauren has stood him up, leaves with her roommate. She's always been there. We just didn't notice.
(And then, yes, Avary ruins it by including a hamfisted montage of those prior scenes just to make sure we get it, and it's so awful it makes me angry to this day, because it ruins a truly perfect moment).
The Power of Details
Avary's choice to have the character in scenes but keep her part of the set dressing is a powerful one, because it makes the audience complicit with Sean. We've both just spent the entire movie not noticing this girl. We're both mystified when she appears on screen, her face filling the frame (or Sean would be if he ever realized his mistake, which he does not). If you didn't notice the girl the first time around (and if you claim you did I don't quite believe you), her suicide is shocking. It's powerful storytelling pulled from a few details Avary scatters here and there.
And he's not done. Because in the sequence when Sean is having sex with Lauren's roommate in their dorm room, he glances up from Biel's contorted face at the wall where a collage of photos has been pasted up. And one of those photos is of Lauren and the unnamed stalker girl, who is killing herself in the bathroom a few doors away at that precise moment.
The implications are strong. And never explained. Obviously, Lauren and this girl know each other, and thus she must be part of their shared world on campus. And yet Sean Bateman has no idea she exists. He meets Lauren and decides he is in love with her within a short time, but he never even sees this girl who is literally following him everywhere and is friends with Lauren herself.
Avary's decision to leave the girl's character as a string of details is brilliant, even if it is ruined by that later montage. The viewer has to extrapolate the whole story from a few grains, and it elevates the film. In a world where a lot of writers seem to think that the more dense your details the more real your world will feel, there's a lessen, and it's pretty clear: Less is more. But only if you know what you're doing.