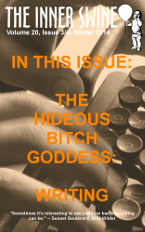 So, it's been six months, and that means it's time for a new issue of that thing you don't read, my zine The Inner Swine. Volume 20, Issue 3/4 (Winter 2014) is out; I pushed it to Amazon and B&N, and I also posted the whole issue to Ello because why the fuck not. I mean, I literally have no idea what to do with Ello – no idea – so I figured why not do something stupid like post 65,000 words to it in poorly formatted HTML? Since I also have no idea what to do with my zombie-zine since I killed the print version.
So I did. Go read it for free, you filthy animals. It contains an entire unpublished novel of mine, BTW.
For those of you who prefer a bit more sanity, you can pay a dollar for the slightly-better formatting of the
and the
Nook.
And as is traditional, I now take a moment to reflect on the insanity that was making approximately 1,500 copies of this zine on the office photocopier back in the day.