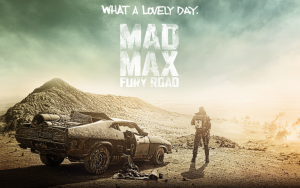 Mad Max: Fury Road is a great movie. Zero exposition, nonstop action, real-feeling stuntwork, and subtle performances plus a surfeit of imagination when it comes to the details and characters of a universe — these are the ingredients for a film that will probably be remembered long after the Marvel tent collapses under its own weight. If you disagree that Fury Road is a good-to-great film, we are no longer friends.
What struck me most about the universe in Fury Road is the way George Miller assumes that in the event of apocalypse, it's not the strong who will survive. Or the just. Or the smart. Or the innocent. No, Miller's universe has consistently assumed one thing: When the world ends, it will be the assholes who rule the embers.
Confining ourselves just to Fury Road, every single character, basically, is an asshole. You have your murderous thugs in Immortan Joe and his crew, you have your unsympathetic, gluttonous plutocrats in the leaders of Gastown and the Bullet Farm. You even have Max himself and Furiosa, our protagonists, who are both incredible assholes. Max, after all, spends much of the film concerned only for himself, and Furiosa isn't exactly nice, and she's making "amends" for some mysterious crimes, likely pegged to her rank as Imperator in Immortan Joe's brutal society.
Now, this makes sense. A lot of apocalyptic fiction likes to imagine that at least somewhere some thoughtful, socialized folks will set up camp and impose some sort of order, or that even when pushed to the edges of their humanity people will still be fundamentally good. The Stand and The Walking Dead both trade in these tropes, but Miller is probably closer to what would really happen: The assholes who already act like civilization is an impediment to their enjoyment of life will simply strap on a studded codpiece, rev up a chainsaw, and take over your town with brutal glee.
Think about the folks you ride the subway with, who share your HOA, who bump into you at bars and nightclubs. Think about all those assholes and despair, because chances are they will be the Immortan Joes of our future world, whereas the rest of us will be killed, enslaved, or exiled.
In fact, I personally like an interpretation of the film that "Max" as portrayed by Tom Hardy isn't actually the Max Rockatansky from the original three films — that Max has become a legend of sorts, a ceremonial name people adopt when they leave behind the brutal me-vs-you attitude of the world. This appeals to me because it fits in with my Assholes Theory: It's like you have this epiphany that you just fought like a dog for something larger than yourself, or common decency, and you're declaring that you're no longer, I dunno, Gloriable Amputate or some other insane persona wearing leather and driving a car festooned with rusting metal spikes, but a person – the legendary Max.
Likely that's a stretch, though Miller's casual attitude towards continuity and throughline in his four films makes it entirely possible. Either way, it doesn't matter, the point remains the same: In the Mad Max universe, the assholes have taken over, and it's why the films are so good. It's the verisimilitude.